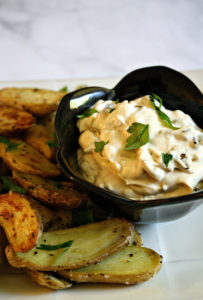 Dairy Free Homemade French Onion Dip
Yield 10 servings
Swap out the sour cream for a dairy free alternative, and you've got yourself one insanely yummy and creamy dip that is sure to please a crowd. And I love them with roasted potatoes too. Yum!
Ingredients
Dip Ingredients:
1 Medium Onion, diced
2 T. Grapeseed Oil (or Olive Oil)
1 cup Vegan Sour Cream
1/4 cup Mayo (I like the Olive Oil kind)
2 cloves Garlic, minced
1 T. Kosher Salt
1 t. Garlic Powder
1/2 t. White Pepper
1 T. Worcestershire Sauce
Fresh Lemon Juice, to taste
Fresh Parsley, for serving
Potato Ingredients:
Fingerling Potatoes
1/2 T. Olive Oil
1/2 t. Kosher Salt
1 t. Dried Basil
1/2 t. Dried Oregano
Instructions
For the dip:
Chop the onions, and then caramelize them. Do this by heating a nonstick pan over medium-high heat and add 2 T. of Grapeseed Oil, Then add the onions to the hot pan and stir constantly for about 10 minutes. Once you get some good color on the onions, reduce the heat to medium and continue stirring constantly for another 10 minutes. Finally turn the onions to low and add a pinch of salt and stir for another couple of minutes. Then transfer the onions to a plate to let them cool completely.
Once the onions are cool, combine the sour cream, mayo, garlic, salt, garlic powder, white pepper, and Worcestershire sauce together. Then fold in the onions. Taste and adjust seasonings as needed.
Cool in the fridge for at least 2 hours.
For the potatoes:
Roast the potatoes not long before you're ready to enjoy your dip. First preheat the oven to 350 degrees.
Wash and dry the potatoes and then slice each one in half. Toss the potatoes with olive oil, salt, pepper, and the dried herbs.
Place the potatoes in a single layer on a lined baking sheet and bake for 20-25 minutes or until the potatoes are cooked through and are becoming a golden brown.
Let the potatoes cool until they're easy to eat and then enjoy them with your dip and other veggies. Yum!
Notes
Quick Tip #1: Sub out the dried herbs for the potatoes with whatever herbs you enjoy like Italian seasoning, dried thyme, and dried rosemary would all be lovely!
Quick Tip #2: If you're not worried about avoiding milk products, definitely swap out for your favorite sour cream. It'll be stellar no matter what!
Courses Appetizer
Cuisine Healthy
Amount Per Serving

Calories 277

% Daily Value

Total Fat 10 g

15%

Saturated Fat 2 g

10%

Unsaturated Fat 5 g

Trans Fat 2 g

Cholesterol 2 mg

1%

Sodium 24 mg

1%

Total Carbohydrates 42 g

14%

Dietary Fiber 5 g

20%

Sugars 4 g

Protein 9 g

18%
Recipe by Can Cook, Will Travel at https://cancookwilltravel.com/dairy-free-homemade-french-onion-dip/