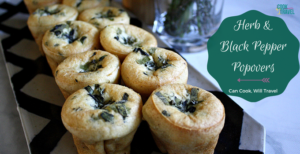 Dairy Free Herb and Black Pepper Popovers
Yield 10 mini popovers
Oh my are these popovers so wonderful. You'll find that they'll go so well with so many meals, so definitely keep plenty of fresh herbs on hand!
Ingredients
Popover Ingredients:
1/4 cup Vegan Butter, melted and cooled (the stick form from Earth Balance is super handy)
1 cup of All-Purpose Flour
1 1/2 teaspoons Fresh Herbs, chopped (I did 1/2 teaspoon each of sage, thyme, and Oregano)
1/2 teaspoon Salt
1/2 teaspoon Freshly Ground Black Pepper
1 3/4 cup Almond Milk
2 Eggs at room temperature
Instructions
Begin by preheating the oven to 450 degrees and place the popover tin in the oven as it preheats.

 

Then melt your butter and let it cool if you haven't already.

 

When all of your ingredients are ready, add the flour, salt, ground pepper, milk, melted butter, and eggs to a medium-sized mixing bowl (if you have one with a spout then definitely use that) and whisk until the batter is pretty smooth. It'll be a very thin batter, and that's what you want!

 

Then add HALF of the herbs into the batter (reserving the rest to top the popovers) and whisk to combine.

 

Remove the hot popover tin from the oven and carefully pour the batter into the tins so they are about 2/3's full. You should get about 10 mini popovers out of this recipe. Then top each popover with the remaining herbs.

 

Bake the popovers for 15-17 minutes (depending on your oven) until the popovers have risen nicely. Then turn the heat down to 300 degrees and bake for another 8-10 minutes or until the popovers start to turn a golden brown and pull away from the edges of the tin.

 

Remove the tin from the oven and let the popovers sit in them for 5 minutes. Then carefully transfer them to a wire cooling rack and eat them while they're still warm. Enjoy!!
Notes
Quick Note: You can use a muffin tin if you don't have a popover tin, but just note they probably will be a bit more dense.
Courses Bread
Cuisine American
Amount Per Serving

Calories 104

% Daily Value

Total Fat 6 g

9%

Saturated Fat 2 g

10%

Unsaturated Fat 3 g

Cholesterol 37 mg

12%

Sodium 204 mg

9%

Total Carbohydrates 9 g

3%

Dietary Fiber 1 g

4%

Protein 3 g

6%
Recipe by Can Cook, Will Travel at https://cancookwilltravel.com/dairy-free-herb-and-black-pepper-popovers/