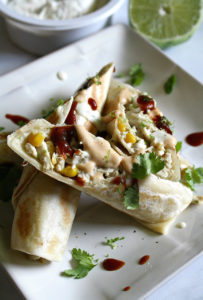 Creamy Chicken Jalapeño Flautas
Yield 6 flautas
Holy healthy cooking - I'm obsessed with these flautas and I bet you will be too! They're dairy free, simple to make, and jam packed with flavor!
Ingredients
Flauta Ingredients
2 Chicken Breasts, cooked & shredded (I used the method in this recipe)
Avocado Oil (Or oil of choice)
1 Large Shallot, diced
1/2 cup of Frozen Corn
Salt & Pepper, to taste
1 t. Garlic Powder
1 t. Cumin
Recipe of Crema (Use this recipe stopping before adding the lime)
Juice and Zest of Half a Lemon
1 T. Sriracha
2 oz. Kite Hill Jalapeño Cream Cheese
6 Tortilla Land Flour Tortillas
Garnishes & Sauces:
Barbecue Sauce of choice
Sriracha Crema
Lime Crema
Cilantro, optional
Goat Cheese, optional
Instructions
Prep in advance: Go ahead and get your chicken poached and shredded and also the cashew cream made in advance, so you save time. A note on the cashew cream is that I used the Mexican Lime Crema recipe here, and stopped before adding the lime. Then I divided it into 2 containers.

 

Chopping: Begin by finely dicing the shallot and setting it to the side, so it's ready for you.

 

Two Cremas: Then move onto the cremas. In the first container add the zest and juice of half a lemon, and then stir until it's well combined. (Note that I zested the whole lime and used more zest for garnish.) Then in the second container add about a tablespoon of Sriracha and combine.

 

Cooking Filling: Spray a skillet over medium low heat with cooking oil (I used spray avocado oil), then add the shallots and 1/2 cup of corn to the pan and cook stirring regularly until the shallots are translucent. Then add salt & pepper along with 1 teaspoon each of cumin and garlic powder and stir. Finally add the chicken and combine to heat the chicken through, and add more seasonings if you'd like.

 

Assembling Filling: Transfer the chicken mixture to a bowl and let it cool for 2 minutes. Then add about 2 ounces of Kite Hill jalapeño cream cheese along with 2-3 tablespoons of the lime crema. Stir it really well and add more cream cheese and crema if it's not very creamy.

 

Assembling Flautas: Lay the tortilla flat and spoon about 1/4 cup of the filling along the center of the tortilla. Then carefully roll it tightly. You can make these to order or cook them all at once, so repeat and make as many flautas as you'd like. (Note that I'm using these amazing uncooked flour tortillas, but if you use regular ones then you'll want to spray them with a little cooking spray so they crisp up a bit when cooking.)

 

Cooking Flautas: For the raw tortillas, heat a pan over medium heat with NO oil. Then cook the tortilla on all sides so they are brown and crisp up. The first flauta will take the longest as the pan heats and may be about 30-90 seconds per side. You'll want to keep an eye on them as they cook, so they don't burn and brown just right.

 

Serving: Cut the finished flautas on a diagonal and serve with the 2 cremas along with your favorite BBQ sauce, fresh cilantro, and lime zest for garnish. Enjoy!
Notes
Quick Tip #1: Save time by poaching your chicken and shredding it in advance. And whip up the cremas in advance too, if you want. You can even mix in the lime and sriracha to the 2 containers of crema to save time.
Quick Tip #2: The Tortilla Land tortillas aren't in every store, so search their store finder to find them near you. I love working with this fresh ingredient, but regular flour tortillas are fine in a pinch. You'll just want to be sure to spray them with a little cooking spray when cooking them in the pan so they brown and crisp up on the outside.
Quick Tip #3: The Kite Hill cream cheese style spread is kinda life changing, so definitely find it if you can. Otherwise jazz up dairy free (or regular) cream cheese with some jalapeños you've sautéed to bring the heat.
Quick Tip #4: Leftovers heat up really well, so don't be afraid to double the recipe or just make what you want at the time if you're serving one. It's also great portion control that way, so you're welcome!
Courses Main Meal
Cuisine Mexican
Amount Per Serving

Calories 459

% Daily Value

Total Fat 15 g

23%

Unsaturated Fat 7 g

Cholesterol 11 mg

4%

Sodium 625 mg

26%

Total Carbohydrates 58 g

19%

Dietary Fiber 3 g

12%

Sugars 2 g

Protein 26 g

52%
Recipe by Can Cook, Will Travel at https://cancookwilltravel.com/creamy-chicken-jalapeno-flautas-dairy-free/