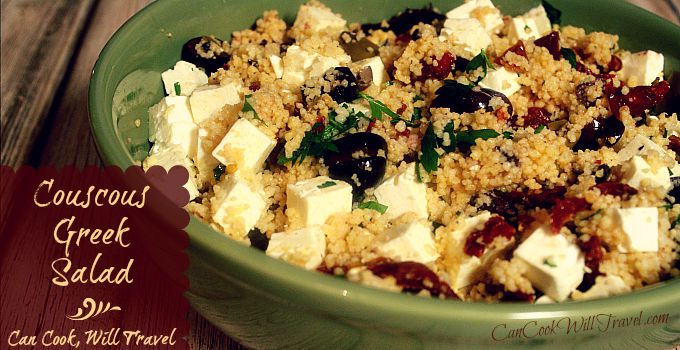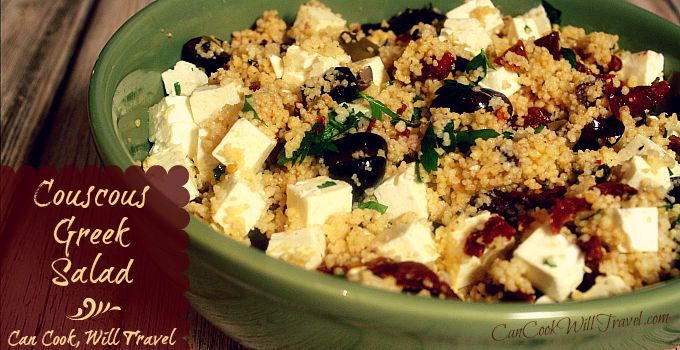 (Recipe can be found on the site Erren's Kitchen here.)
Step by Step Instructions:

This quick and easy Couscous Greek Salad will be on your table in no time! Here's what you'll need: Oregano (I used fresh but dried will be great too), 1/2 pound of Feta Cheese (in a block), Couscous, (ignore the Paprika), Sun-Dried Tomatoes (mine were in a jar in oil and were julienned already), Extra-Virgin Olive Oil, Salt & Pepper, Greek Olives (I had a mix of green and Kalamata olives), 1 Lemon, a handful of Parsley, and Tomato Paste.

Start by boiling 2 cups of water. I used an electric kettle, which worked perfectly. While the water boils, add a cup of dry couscous, 4 teaspoons of tomato paste, 3 tablespoons of chopped fresh oregano or 1 tablespoon of dried, and a pinch of salt to a small or medium-sized sauce pan.

Add the water to the sauce pan and stir.

Place the lid on the pan and let it sit for 5 minutes so the couscous and absorb all of the flavors and water.

While the couscous cooks, I tackled my olives. I got my olives at the grocery store on their olive bar. These had pits in them, so it took a little more time. My mom gave me a great trick though. Grab a large chef's knife and smash the olives to remove the pits (just like you would smash garlic to remove the skin). Then slice or chop your olives. If you want really pretty slices, then you'll want pitted olives, but I didn't mind. Keep pitting & slicing until you have 3/4 cup or 125 grams of olives.

At this point the couscous was finished…

…so grab a fork and fluff the couscous. Then transfer it to a large bowl.

Here were my olives once I was done.

Add the chopped olives, a handful of chopped parsley, and 3/4 cup of sliced sun-dried tomatoes to the bowl. (I bought my sun-dried tomatoes julienned, so I didn't have to take the time to cook them.) You'll want 3/4 cup or 125 grams of tomatoes here.

Then combine and add some salt and pepper for seasoning along with a drizzle of extra-virgin olive oil and the juice of half a lemon.

Then I grabbed my block of Feta cheese and cut it into cubes.

Add the Feta to the salad.

Toss the salad, taste and season again if needed. Then enjoy! This was packed with flavor and I loved the salty bites of Feta and olives and the sun-dried tomato flavor, which really kicks this couscous up about 10 notches. Yum! Enjoy as a side or a meal on its own. Happy couscous-ing!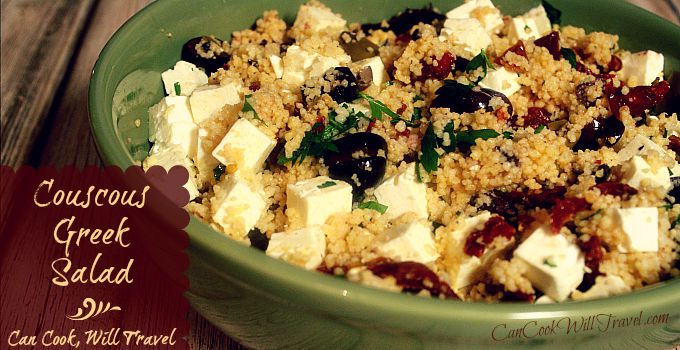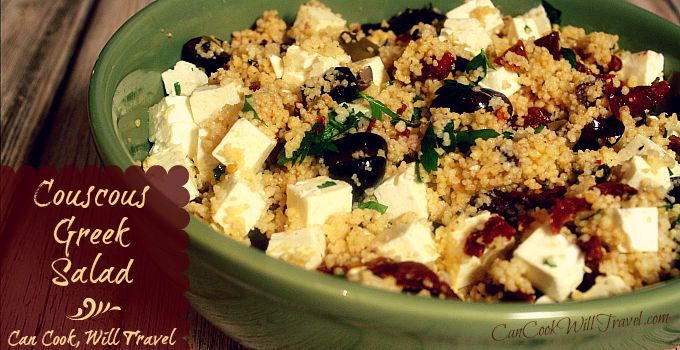 Couscous Greek Salad
A quick and easy salad that is packed with Mediterranean flavors!
Ingredients
1 cup Couscous
2 cups/ boiling Water
4 teaspoons Tomato Paste
3 tablespoons Oregano, chopped (or 1 T dried Oregano)
A good handful of fresh Parsley, chopped
½ Lemon
Extra Virgin Olive Oil
Kosher Salt & Pepper, to taste
¾ cup/125g sliced Greek olives
½ lb/200g feta cheese, cubed
¾ cup/125g Sun-dried tomatoes, sliced or chopped
Preparation Instructions
Begin by boiling 2 cups of water. Once it's boiling, add it to the couscous, tomato paste, oregano, and a pinch of salt. Stir and cover the saucepan and let it sit for 5 minutes.
While the couscous cooks, chop up your parsley and slice your olives and sun-dried tomatoes as needed. (My tomatoes were pre-sliced, which was nice.)
When the couscous is done, fluff it with a fork and move it to a bowl. Add the olives, sun-dried tomatoes, and parsley to the couscous and toss the mixture.
Drizzle a little extra-virgin olive oil and juice half a lemon over the couscous mixture. Then cut up the Feta into cubes and add it to the salad. Toss the salad.
Taste and season with salt and pepper as needed and combine again. Serve right away. This makes a great side dish or can be eaten on its own. Enjoy!
0