It's that time of year again to reflect on my favorite recipes from 2014 and settle on what was most tasty this year! In 2012 and 2013, I had some pretty incredible dishes to share, but I think 2014's list might be longer, so bear with me here. I thought about listing fewer recipes below, but why deny my lovely readers any fabulous dishes?! And be sure to get your pen and paper handy to start making your grocery list!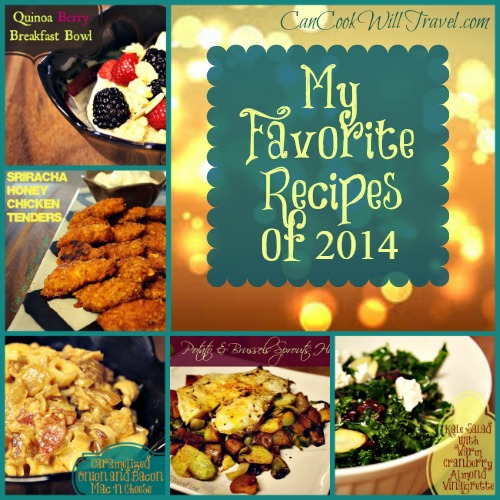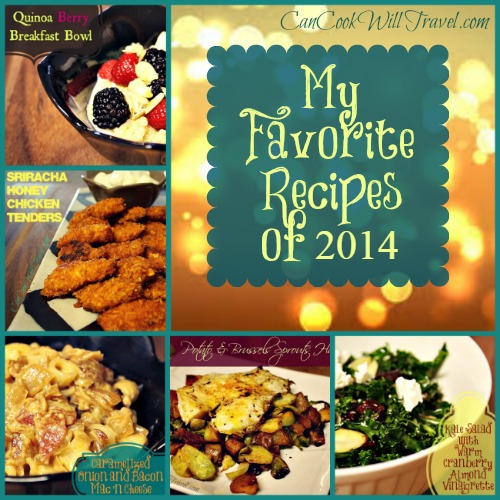 Favorite Recipes of 2014
Breakfast
Breakfast is the most important meal of the day they say. And I must agree, although as you can probably tell, I love eating breakfast food any time of day. So without further ado, here are some of my favorite breakfast-y recipes I cooked up this year:

Quinoa Berry Breakfast Bowl – Yes I love quinoa and this breakfast bowl is a sweet take on quinoa. I usually eat this grain in more savory dishes but I got slightly addicted to this delicious breakfast option.

Banana Nut Bread Pancakes – My gluten-free friends, these banana nut bread pancakes are fabulous. They are not only easy to make, gluten-free, and heat up well but they are DELICIOUS!

Pumpkin Waffles – I kinda love waffles a lot! To get a perfect Fall flavor without being overpowering, these Pumpkin Waffles are a real hit in my book! Get out those waffle irons!

Ham and Cheese Waffles – Yes another waffle recipe but it's just too cool to not highlight. A savory style waffle topped with syrup is a fabulous mix of sweet and savory and those bits of ham throughout are an awesome surprise!

Potato and Brussels Sprouts Hash – After eating a delicious hash recipe at brunch one day, I knew I had to find something comparable and this potato and Brussels sprouts hash will not disappoint. Seriously delicious and packed with flavor!
Appetizers
When it comes to Appetizers, I usually have a few tried and true recipes that I rarely deviate from. But when I have a get together or event to bring food to, it's always fun to try something new. Here are 4 great dishes to wow your friends and family with next time!

Buffalo Chicken Tortilla Rollups – Who doesn't love a great tortilla rollup when at a party? They are so easy to eat and you can pack them with a number of flavors. And when you want a slight kick and something with meat, these Buffalo Chicken Tortilla Rollups will totally shine. Yum!!

Homemade Pretzels with Sriracha Beer Cheese Sauce – My Dad is still talking about these pretzels and dropping hints that I should make them again. How can you ever go wrong with homemade pretzels and paired with a spicy beer cheese sauce it's a complete winner!

Broccoli Parmesan Cheese Dip – Dips are some of my favorite dishes to make. They are perfect when chilling at home or when you need to bring someone to a friend's house for a gathering. And I really do love a baked dip…there's something so comforting about them. I couldn't believe how much we LOVED this Broccoli Parmesan Cheese Dip, and I know you will too.

Jalapeno Popper Taquitos – I am opting to put these an appetizer because they can totally be finger food, but I've also made many a meal out of these taquitos too. They are packed with flavor and surprisingly delicious! Plus you can make them as spicy as you want (or don't want).
Veggies, Soups & Salads:
Now Veggies, Soups, and Salads may not often be the star of a meal, but they do play an important role. That element of healthy eating or overall comfort food qualities is always necessary. I know you'll love these dishes!

Lemon-Dill Green Beans – These green beans are awesome in the summer when you have fresh beans on hand, and the combo of lemon and dill and shallots really make these beans shine. Is it Summer yet?!

Sauteed Zucchini with Toasted Garlic and Lime – Holy smokes you MUST try out this dish next time you have fresh zucchini on hand. I would have never thought of pairing zucchini with lime and it's genius! So, so good!

Cauliflower and Parsnip Soup – Usually I make lots of soups, but this year I was really experimenting quite a bit…note to self for 2015: More soups! I loved this one though. It was really simple with great veggie flavor and healthy ingredients. Definitely worth making again!

Warming Slimdown Soup – Oh this soup is serious comfort food yet it's extremely healthy with a broth base and lots of veggies. Plus you make it in the crock pot, which is oh so handy. This one is perfect for the cooler months!

Black Bean Quinoa Salad with Chipotle Steak – It's true salads aren't my favorites but these 2 salads rock. First is a delicious quinoa salad with spinach and topped with this fabulous chipotle steak. Carnivores everywhere will love this one!

Kale Salad with Warm Cranberry Vinaigrette – Yes kale is super good for you and yes I feature it quite a bit on my blog. This kale salad was AMAZING! Massaging the kale with olive oil until it's tender and topping with a beautiful vinaigrette, cranberries, and goat cheese make for a delightful experience!
Main Dishes
The real star of the show most nights is the Main Dish. I wanted to pick out some recipe that were easy to make and packed with flavor…yes there's a lot of spice in this list, but you can always tone it down (or amp it up!).

Crock-Pot Salsa Chicken – When I say this dish is easy, that is no joke. And it's super tasty and heats up really well. I loved this chicken with some Spanish rice and a light beer to make my weeknight a bit more easy and relaxing and generally better!

Black Bean Burritos – Here's another great option where you can throw your ingredients in the crock pot and come back to it a few hours later and find a delicious burrito filling is waiting for you. This recipe makes a TON of filling, but that's okay by me as I froze several burritos and could then enjoy them for weeks to come.

Hot and Sour Stir-Fried Shrimp – I'm a sucker for Chinese-inspired foods like stir-fry. This one is PACKED with awesome flavors to give a spicy and tangy taste to the shrimp and veggies. Top some white rice with the shrimp mixture and devour…wow was it good!

Sriracha Honey Chicken Tenders – If you love spicy, these chicken tenders will make you very happy. Plus they were simple to make and includes a really easy ranch dipping sauce. If you are as intrigued as I was (and you should be), then be sure to be prepared that the chicken needs to marinate overnight. You've been warned! And the leftover chicken is delightful in a wrap for a quick lunch.

Cranberry Chicken – This recipe was one that definitely caught my eye, and when I saw I had nearly everything I needed, I couldn't help but try it out. What I found was it was a cinch to make and the end result was such a crazy amount of flavors that magically worked really well together…can't wait for you to try it out!

Blue Cheese Stuffed Pork Chops – I nearly forgot this one which would have been tragic. Wow was this recipe so yummy and super easy. Who doesn't like cheese oozing out of your pork chops?! Hold please, while I wipe the drool from my keyboard…okay, let's carry on.
Pasta
Pasta Lovers, this section is for you! I just love everything about Pasta. It's easy, flexible and is totally comforting…what's not to love?! So here are a few of the stellar pasta dishes I cooked up this year:

Spicy Pasta with Sweet Potatoes – I never thought there'd be a day when pasta and sweet potatoes would be in the same dish in my kitchen, but I'm so glad I was wrong. This dish was the bomb! You have to try it out!

Red Chard and Garlic Linguine – When I had some red chard on hand and was unsure what to do with it, I happened across this recipe. It was a great way to cook and eat red chard where you saute it for a few minutes until it's tender and then toss it with pasta. And did I mention it was FULL of garlic…yum! And finally the top it with lemon zest and cheese and boom, it's officially fantastic!

Creamy Pesto Chicken Tortellini – I love a great one dish meal, and this one is certainly that! The creamy pesto sauce, chunks of chicken and tortellini make for a dish that everyone will enjoy! And wow talk about comfort food…it's kind of like chicken noodle soup minus the soup. Yummy!

Caramelized Onion and Bacon Mac 'n Cheese – Last but not least is this mac 'n cheese dish that rocked my world. I'm drooling again just typing this. The caramelized onions add a touch of sweetness and the bacon and cheese and pasta amp up the standard mac 'n cheese meal. Holy moly this was delightful!
Snacks & Sweets
Finally it's time for those little life indulgences with Snacks and Sweets. I do have a sweet tooth, I must say, so this section makes me quite happy.

Chocolate Zucchini Cake – This is a recipe I've made since I was a kid, and it is a chocolate lover's dream! So when you have a ton of zucchin on hand and aren't sure what to do with ALL of it, then make this! It's completely delightful and you can't taste the zucchini at all, so it's fun to sneak the zucchini into food with kids and zucchini haters.

Vanilla Chia Seed Pudding – Easy, healthy, and super filling is perfect in my book when I'm looking for a snack. I have made this pudding a few times now, and it is great! I love being able to customize it to my mood too…if you aren't familiar with chia seeds, this is a wonderful introduction to this power food.

Chewy Peanut Butter Monster Cookies – It's only been a month or two since I first made these cookies, but I've baked about 3 more batches since then. Soft and chewy and full of chocolate and peanut butter flavors, this one is a huge winner! They are easily top 5 in my favorite cookies list!

Cranberry Orange Bread – Have you noticed my love of cranberries yet? Well you won't be disappointed by this cranberry orange bread. It's easy to make and if you bake up mini loaves, they make for a perfect gift from the heart. And I'll admit I've eaten this bread for breakfast, a snack, or dessert. Can't wait for you to try this one out!
4 years of blogging is officially in the books, and I can't wait to see what 2015 holds! Lots of great recipes to share, fun tips and products I love too! Hope you're enjoying my blog as much as I enjoy working on it. Happiest of New Year's to each and every one of you. May it be our best year yet!
0