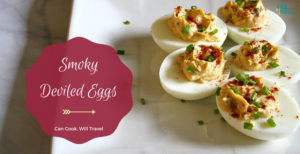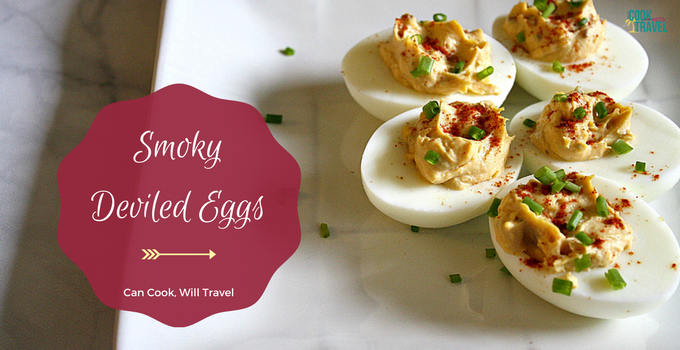 Chipotle Deviled Eggs
Yield 12 deviled eggs
You'll love this smoky twist on classic deviled eggs. I dare you to eat just one!
Ingredients
Chipotle Deviled Eggs Ingredients:
6 Hardboiled Eggs
1 t. Dijon Mustard
2 1/2 T. Mayo
1 t. Dill Relish
1 t. Chipotle in Adobo Sauce (including some sauce and peppers)
1/4 t. Ground Black Pepper
Chopped Chives, for topping
Smoked Paprika, for topping
Instructions
If you haven't already, hard boil 6 (or more) eggs, and peel them.

 

Use kitchen shears to cut the chives you've washed and dried into small pieces.

 

Then use a sharp, non-serrated knife to slice each egg in half. Use a paper towel to wipe off the yolk on the knife between cutting each egg.

 

Add the yolks to a food processor (or you can whisk the filling by hand if you don't have a food processor). I like to flip the egg half over and gently push the yolk out from the back. Then I use my hand to ease out any remaining yolk into the food processor.

 

Once all of the yolks are in the processor, add the dijon mustard, mayo, relish, chipotle in adobo (I roughly chopped it to help me measure it better), and ground pepper to the yolks. Process until the filling is smooth. Add more mayo or mustard to make it more creamy, and taste and adjust seasonings.

 

Use a spoon or piping bag to fill the center of the eggs. Once all of the filling has been distributed, then top with chopped chives and a sprinkling of smoked paprika. Enjoy immediately or make up to a day in advance and devour!
Notes
Quick Tip: To whip these up in a hurry, have your eggs peeled in advance. Just be careful to rest them in your dish in the fridge with any imperfections down, because without the shell's protection, the egg will flatten a bit as it sits. But that quickly helps you decide how to slice your eggs.
Courses Appetizer
Cuisine American
Amount Per Serving

Calories 52

% Daily Value

Total Fat 4 g

6%

Saturated Fat 1 g

5%

Unsaturated Fat 2 g

Cholesterol 106 mg

35%

Sodium 72 mg

3%

Protein 4 g

8%
Recipe by Can Cook, Will Travel at https://cancookwilltravel.com/chipotle-deviled-eggs/