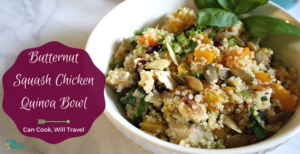 Butternut Squash Quinoa Bowl with Basil Lime Vinaigrette
Yield 4 servings
This healthy bowl is filled with delicious flavors and good-for-ingredients that you can enjoy without guilt!
Ingredients
For Quinoa Bowl:
12 oz. Butternut Squash, cut into small, bite-sized pieces
1/2 a Yellow Onion, diced
1 Garlic Clove, roughly chopped
1 T. EVOO
1/4 t. Ground Coriander
1/4 t. Crushed Red Pepper Flakes (optional)
Salt & Pepper, to taste
2 cups Quinoa, cooked
1 Chicken Breast, cooked
1/4 cup Dried Cranberries (I prefer the kind with less sugar)
1/4 cup fresh Parsley, chopped
2 T. fresh Basil, thinly sliced
Pepitas for topping
Finishing salt for topping (optional)
For Basil Lime Vinaigrette:
Zest of 1 Lime (use about 1/2 to 2/3 of zest and reserve the rest for topping dish)
Juice of 1 Lime
1/2 a Shallot, finely chopped
1 T. EVOO
1 t. Honey
1/4 t. Ground Coriander
Salt & Pepper, to taste
1 t. fresh Basil, chopped finely
I used about 1/2 -2/3 zest of 1 lime and used the rest to top
Instructions
Quinoa: Prepare according to your package instructions, and you can make the quinoa in advance and then store in the refrigerator until you're ready for it.

 

Chicken: Heat a medium-sized non-stick pan over medium heat and add about 1 T. of grapeseed oil (or preferred oil). Season chicken with salt & pepper on both sides, and then add chicken to hot pan. Cook for 2-3 minutes on each side repeating until the chicken is fully cooked through (8-10 minutes). You can also prepare the chicken in advance and dice and reheat when you're ready to use it.

 

Roasted Butternut Squash: Preheat the oven to 375 degrees. Combine the butternut squash, onion, and garlic in a medium-sized bowl. Add 1 tablespoon of EVOO along with coriander, red pepper flakes, and salt and pepper to taste. Once the veggies are well coated, transfer them to a rimmed baking sheet lined with a Silpat and spread them in a single layer. Bake for 15-20 minutes or until the squash is tender. Remove from the oven and let cool 3-5 minutes before stirring the dish together.

 

Basil Lime Vinaigrette: Zest a lime, and add 1/2 to 2/3 of the zest to a mason jar. Then juice the lime into the jar. Next finely chop half of a shallot and add it along with 1 tablespoon of EVOO, 1 teaspoon of honey, 1/4 teaspoon ground coriander, and salt and pepper to taste to the jar. Put a lid on the jar and then shake really well. Then taste and adjust seasoning adding more honey, salt, oil, etc. as needed. Before you're ready to serve, add the basil and shake well. You can make the vinaigrette in advance to save you time if you'd like.

 

Putting Bowl Together: Once the components are made (and you can make the quinoa, chicken, and vinaigrette in advance or make the vinaigrette as the squash bakes), then grab a large bowl. Add the quinoa, chopped chicken, roasted veggies, chopped fresh parsley and basil, dried cranberries, and vinaigrette (shaken well) and combine really well. Taste and season with salt and pepper if needed, then serve immediately. I like to to top my bowl with a tablespoon or so of pepitas, a little lime zest, and a very light sprinkle of finishing salt. Enjoy!
Notes
Quick Tip: You can make the quinoa, cook the chicken, and mix up the vinaigrette (although I'd leave the basil out until you're ready to serve it) in advance to save you time.
Courses Main Meal
Cuisine Healthy
Amount Per Serving

Calories 338

% Daily Value

Total Fat 11 g

17%

Saturated Fat 2 g

10%

Unsaturated Fat 9 g

Cholesterol 36 mg

12%

Sodium 43 mg

2%

Total Carbohydrates 45 g

15%

Dietary Fiber 9 g

36%

Sugars 12 g

Protein 19 g

38%
Recipe by Can Cook, Will Travel at https://cancookwilltravel.com/basil-lime-butternut-squash-quinoa-bowl/